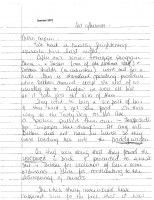 The Peoplestown Project seeks to preserve materials that tell the history and stories of community organizing in Peoplestown. We hope that teachers, students, and researchers will use these materials to begin interpreting — and teaching — the rich legacy of civic activism in central Atlanta.
David Morath worked on staff at Emmaus House from September 1970 until August 1972. The letters in this collection — from David to his parents in Westminster, Maryland — were saved by his mother.
Selections from the Muriel Lokey Papers, including the Poor Peoples Newspaper and volunteer training materials from the Poverty Rights Office, are provided courtesy of Atlanta History Center.