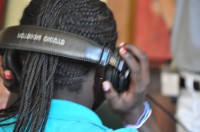 From June to December 2010, the MyPLACE segment of The Peoplestown Project worked with neighborhood middle grades and high school students to use visual and performing arts to explore overlapping themes of self, community, and civic life.  At Emmaus Houses's Summer Arts Camp, then-KSU graduate student Gwendelyn Ballew worked with artist-campers to create and perform stories relevant to and reflective of their lives.  With Assistant Professor of English Jennifer Dail, the artist-campers crafted personal narratives using digital story techniques.  And with photographer Mary Stuart Hall, the artist-campers studied composition and used digital photography to document and interpret personally-significant places.
In the fall 2010 Emmaus House Saturday Arts Program, six middle and high school girls used photography, audio and visual technologies to create digital narratives about themselves, others, and their neighborhood.
MyPLACE was funded by the American Studies Association's Community Partnership Grant, Emmaus House, and Kennesaw State University's College of Humanities and Social Sciences, Department of History and Philosophy, Cultural and Regional Studies program, and American Studies program.